Xoss Cadence & Speed Sensor
Regular price
$19.99
Sale price
$25.98
Unit price
per
Support Bluetooth & ANT+
XOSS Cadence Sensor track your cadence and speed by earth induction, NO need MAGNETS.
Cadence Sensor Mode
Reinstall the battery until the blue light flashes to indicate the cadence mode.
Rotate the crank and search for the sensor using ANT+ or Bluetooth device
Speed Sensor Mode
Reinstall the battery until the Red light flashes to indicate the speed mode.
Spin the wheel and search for the sensor using ANT+ or Bluetooth device.
Replaceable Battery
The working time reach 400 hours,can be used continuously a year if you ride 1 hour a day.
No recharging!
Sleek, Lightweight Design
Sensors weigh only 7 grams. Perfect for spin class or use with multiple bikes.
Waterproof
IPX7 Waterproof, enjoy your cycling every day in all weather.
For Indoor Trainer
Zwift,Tacx,Bkool
For Cycling Computer
Track and capture real time cycling speed & cadence data on your Bike Computer.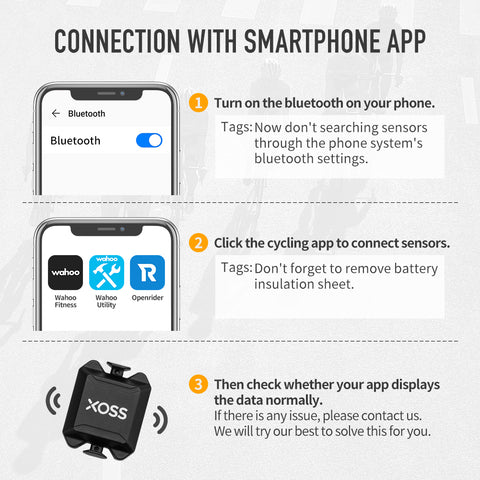 For Smart Phone Apps
Send data to your favorite cycling apps - Wahoo Fitness , Ride With GPS, Map My Ride, Cyclemeter and more.
We are a group of young avid riders. We want more people to enjoy riding in this era of tech. We launched our App Xingzhe 5 years ago in China, allowing people to monitor and share their rides. Our App now has more than 10 million users and 100k cycling club.We have a huge user base and excellent reputation in the industry. In the core technology, brand culture,we have established a higher barrier. Our app APP currently has core products like exclusive software technology( Road book and data analysis), self-developed smart riding hardware, race SaaS system .etc .
Our team is constantly expanding its e-commerce, bike shop, cycling club, event activities and other aspects of continuous platform development. And constantly active user community, committed to building a complete sports ecosystem,promote cycling and outdoor sports culture.We create our own brand XOSS 2 years ago. XOSS means Extreme Outdoor Sports Science.We aim to provide the cost-effective product for every cycling enthusiast, choose us, you will get a surprise!
However long and hard the road ahead may be, I am still willing to go on. It is not only a striving spirit, but also a life attitude and norms. We appreciate and admire everyone with adventurous spirit. Not only for cycling enthusiasts, but also for more outdoor enthusiasts.XOSS hopes to carry your enthusiasm, we also hope that through each product of XOSS, everyone can enjoy the world of outdoor sports.
---
Share this Product
---